Amsterdam Airport Schiphol
General information Amsterdam Airport Schiphol
The largest and most important airport in the Netherlands is located about ten kilometres outside of Amsterdam. Schiphol also plays an important role internationally. Annually, around 70 million passengers fly via this airport. Compared to other airports in and around the Netherlands, this is an overwhelming number. Schiphol offers travellers a wide range of destinations and this is also one of the airport's strengths.
Airlines and destinations
The list of airlines using Amsterdam Airport Schiphol is too long to list. It is the home base for airlines such as TUIfly, Martinair, Corendon, Transavia and of course KLM, but the airport is used by all airlines operating in the region. The number of destinations you can reach directly from Schiphol is quite impressive. If you are willing to make a stopover, all corners of the world can be reached from this airport.

There are a number of destinations that are only offered by airlines in high season. These are actually always destinations that are among the popular holiday destinations. Every month, KLM offers various far-away destinations during Five Days Advantage. This makes these destinations a lot more accessible. Check arrivals and departures.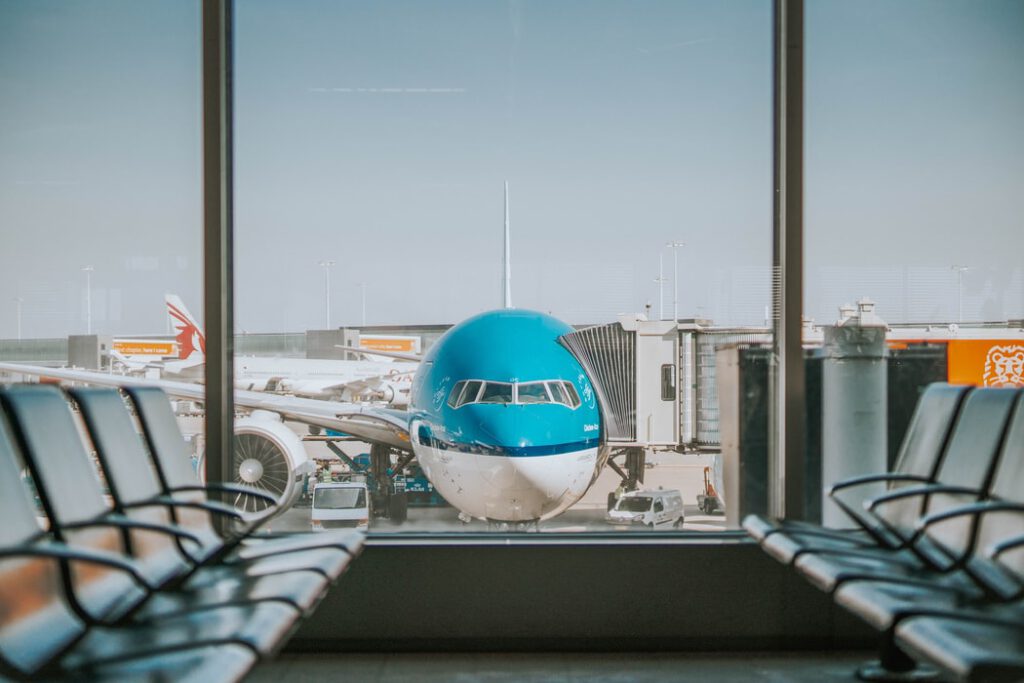 Also known as: Schiphol, Schiphol Airport
Adress: Evert van de Beekstraat 202, 1118 CP Schiphol, Netherlands
IATA: AMS
ICAO: EHAM
Passengers: 71.7 million (2019)
The A4 makes Schiphol easily accessible for motorists. The disadvantage of travelling by car is the additional parking costs. More about this later. As an alternative it is possible to travel to the airport by public transport. Schiphol is easy to reach by bus as well as by train. From several places near Schiphol there are regular busses to the airport. For many travellers, the train will be a logical option. It is even possible to reach the airport by high speed train.
Amsterdam Airport Schiphol Parking
There are several parking lots and parking facilities if you fly from Schiphol. There are three car parks (P1, P2, P3) where different services can be used. For a short visit there is Visitors Parking on P1 and P2. This is suitable for dropping off or picking up passengers. Park and Travel 3 is the cheapest option for those who travel for a long time. Smart Parking can also be very advantageous. With both you park on P3. For members, there is Privium Parking, which can be used to park in all three car parks. For business passengers there is Valet Parking. You can park your car in front of the airport and leave the car keys at the desk. There are also Excellence parking lots with extra space.
For comparison, here are some prices for an average seven day parking. Smart Parking (P3) costs almost 50 euros. With Park and Travel 3 this will cost you 62 euros, but the reservations are more flexible. For both, you have to take the bus for 8 minutes before you arrive at the airport. Prices for P2 start from 100 euro, but then you park within walking distance of the airport.
The possibilities you have when you fly from Schiphol Airport are enormous. This is the big advantage of the airport. You can choose from a wide selection of destinations and airlines. However, the disadvantage is that it often comes with a price tag. It is possible to fly cheap from Amsterdam Airport Schiphol, but due to the high demand for airline tickets, prices can rise considerably. In addition, parking costs are often quite high compared to other airports.
You arrive at Amsterdam Airport Schiphol, you need a car rental: 
Book a hotel near the airport or one for your stay:
Book a taxi at Amsterdam Airport Schiphol. It is about 17 km to the city centre of Amsterdam. A normal price for a taxi is around 40 – 45 euro.